Del Bigtree & Robert Kennedy, Jr. LIVE - What's REALLY happening with Vaccines!
Published to youtube.com on 4/11/19 (Time 48:34)
Thanks to Laura Norris, these two incredible speeches were caught on video LIVE! Speaking directly to parents and to legislators, Del Bigtree and Robert Kennedy, Jr. give FACTUAL data about what is really going on with the current push for forced vaccinations in New York & the proposed removal of medical exemptions out of the hands of doctors in California.

Must See: Laura Hayes on Vaccines - 'Why Is This Legal'
Published to youtube.com on 11/12/18 (Time 1:23:44)
Laura Hayes tells all that is withheld regarding vaccines and their real effect upon the human body. An absolute must see!

Retired Hospital Worker Gives Explosive'Flu Shot Speech' Before CDC Advisory Committee Published to youtube.com on 10/29/18 (Time 5:04)
On October 25, 2018 a recently retired emergency room technician of 20 years named Lori Ciminelli gave a speech at the CDC Advisory Commettee on Immunization Practices.
Laura Hayes, Thank You for Speaking Out!!

Laura Hayes's WAPF Presentation "Vaccines: What is there to be 'Pro' About?" 11/13/16
Published to youtube.com on 12/14/16 (Time 1:20:39)

The Vaccine Culture War in America (Time 28:52)
NVICstandup published on 3/11/15
Discrimination, societal sanctions, it all started with a few measles cases at Disneyland.
What does the elimination of religious and non-medical exemptions mean for your family?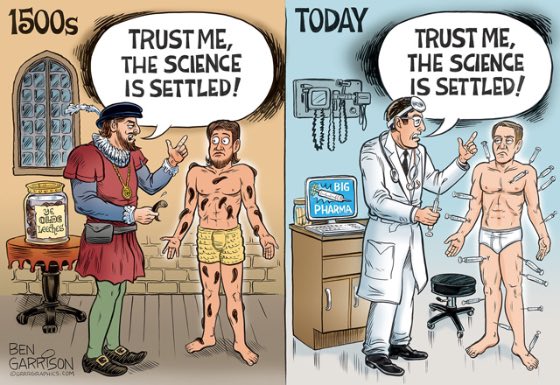 From : https://grrrgraphics.com/settled -science/



The Truth About Vaccines Docu-Series - Episode 1 (Time 1:57:24)
Robert F. Kennedy Jr. Interview | Smallpox Vaccine
The risks of vaccines are very real, and parents are allowed to question their safety. This documentary discusses the science and history behind the vaccine industry.
published to youtube.com on April 13, 2017



Detoxing from Vaccines - Dr. John Bergman
Published to youtube.com on 6/24/18 (Time 57:03)
With the world becoming increasingly toxic and the incredible lack of knowledge regarding appropriate healthcare, it has never been more important to take charge of your health and your life.



CDC "Vaccine Science" hides giant conflict of interest

"When, in 2014, William Thompson, a long-time CDC researcher, publicly admitted he and his colleagues had buried data that would have shown the MMR vaccine increases the risk of autism, he was throwing a stick of dynamite into the whole CDC operation. He was also saying, in recorded phone conversations, that the CDC was lying about vaccine safety in other studies.

This is why major media refused to cover or investigate Thompsonís claims. This is why they spread a blanket of silence over his revelations.

Thompson was threatening a $ 4-billion-a-year enterprise. The CDC is both a PR agency for, and a buyer from, Big Pharma."
Quote from Jon Rappoport's Blog July 5, 2018 CDC "vaccine science" hides giant conflict of interest.


Dr. Mark Geier, PhD discusses alarming aspects of the flu vaccine - safety, efficacy...
Published to youtube.com on 8/26/13 (Time 13:55)


Pro-Vaxers, Debunk THIS! - Vaccination Truth w/Dr. Suzanne Humphries
Mankind might one day look back at the vaccination agenda of our age
as we look back at blood-letting.
Published to youtube.com on 1/21/15 (Time 24:45)